This article explains how contractors can verify their identity.
Why must I verify my account to withdraw funds?
Due to our collaboration with well-known payment service providers, Remofirst is required to verify your identity for your safety and risk mitigation purposes. This verification process typically involves providing government-issued photo identification and other relevant personal documents. Remofirst's representatives will conduct a KYC (Know Your Customer) verification procedure.
If your identity is not verified, you will be unable to withdraw money.
How do I verify my identity?
Thanks to our partnership with Sumsub, the verification process is quick and straightforward, typically taking just a few minutes.
Step 1. Click the "Verify your identity" step
To initiate the process, you can verify your account directly from your Onboarding Checklist.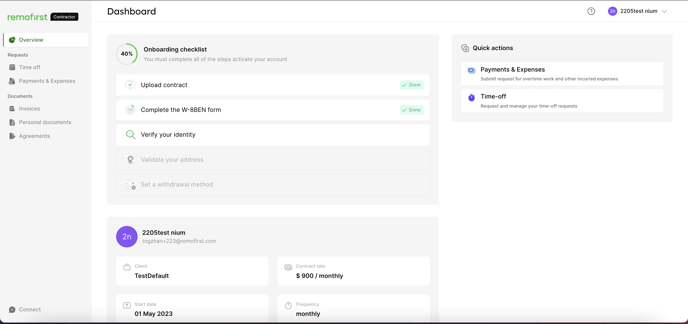 Step 2. Click the "Verify" button on the pop-up window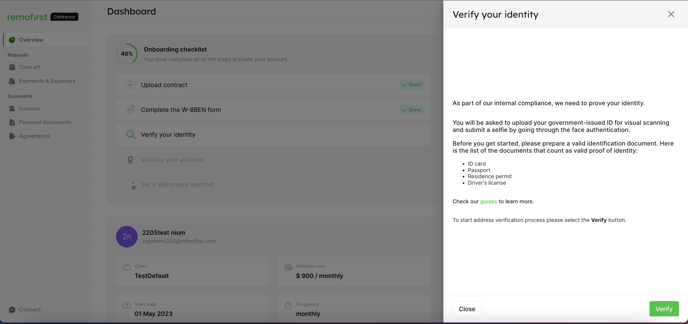 Step 3. Confirm the privacy notes and choose the document type you prefer to upload: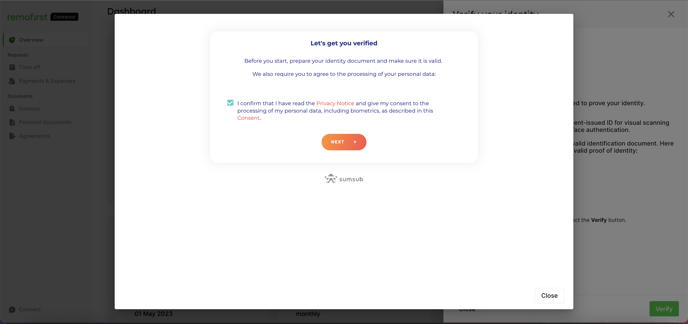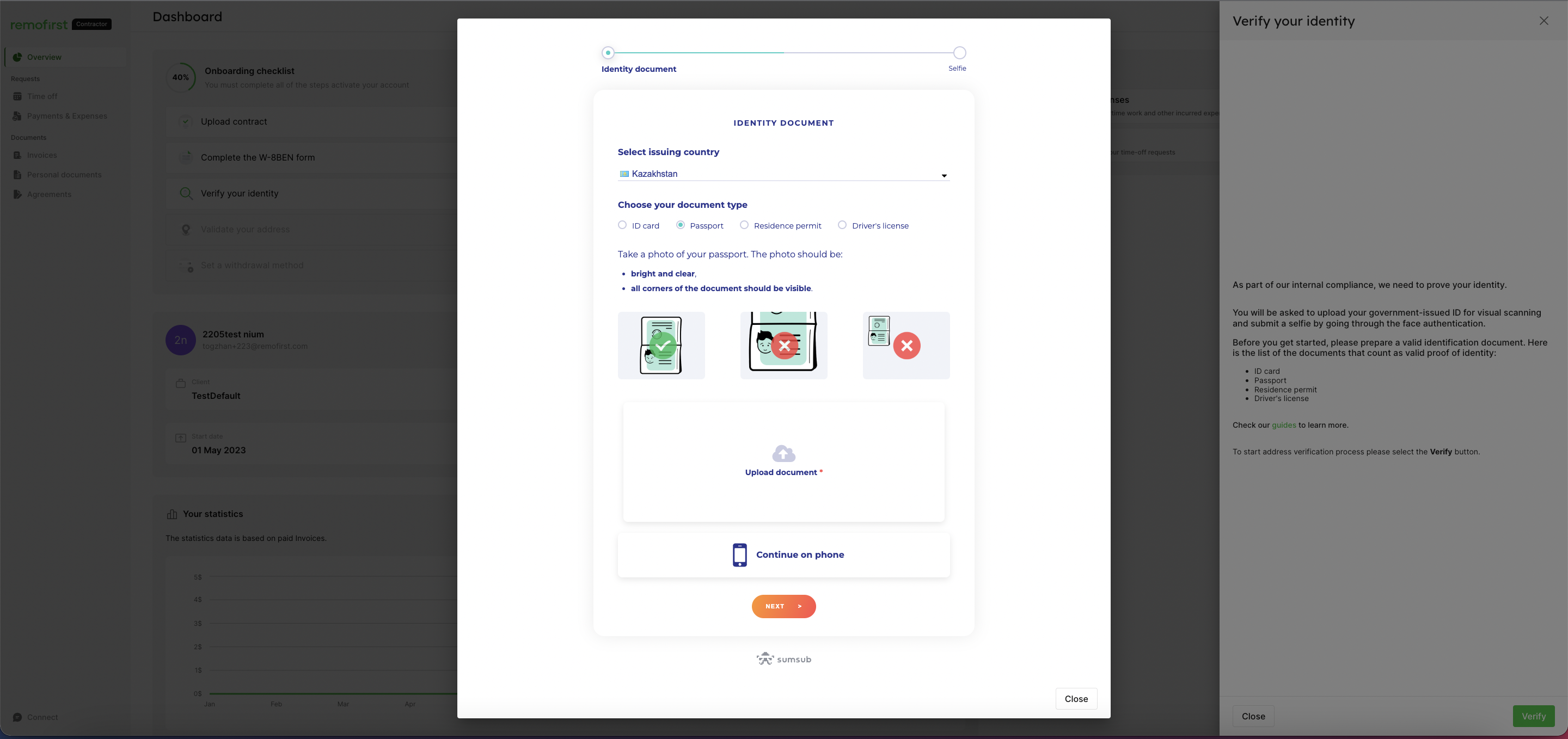 Choosing ID Document to Upload
The ID document must contain:
Owner's full name
Owner's full date of birth
Document number
Validity data (issue date or validity period)
Owner's photo
Owner's signature (if applicable)
Note: For more information about how Sumsub checks documents, follow this link: https://docs.sumsub.com/docs/how-id-verification-works
Step 4. Upload the respective document and click the "Next" button: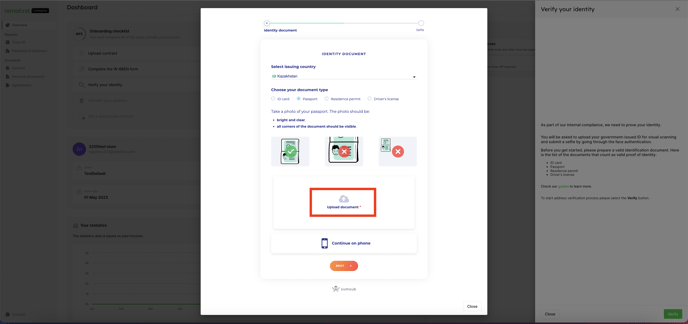 Step 5. Face liveness verification
Click the "I'm ready" button" and follow the instructions
Note: please ensure that you use a high-resolution camera. If you want to accomplish this through your phone, just click "continue on the phone" and scan the QR code by your phone or copy the link, and the respective window will open on your default browser.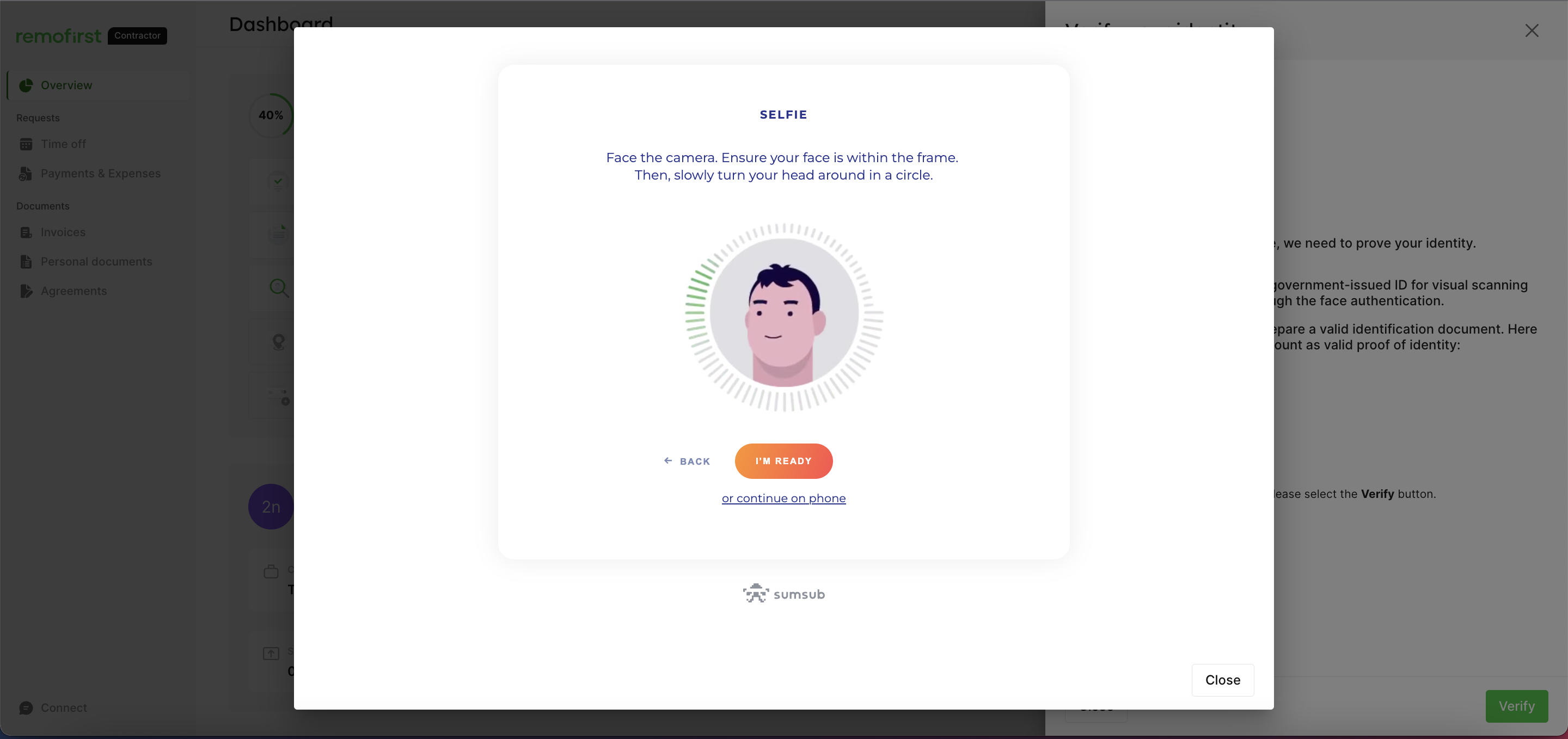 Selfie identification verifies that the applicant is a unique individual who possesses the account and documents uploaded to their applicant profile.
The selfie identification easily detects:
Physical and digital images.
Paper masks.
Deepfakes, lookalikes, and doppelgangers.
Masks, wax figures, and lifelike dolls.
High-resolution videos.
Step 6. Wait until the data is processed
Usually, the processing time takes from 3-5 minutes. But it may take longer depending on the Internet speed and third-party response.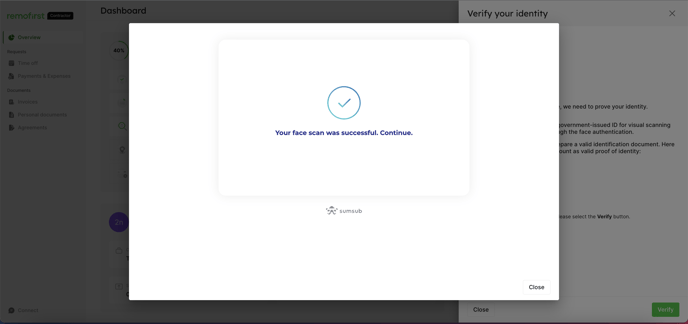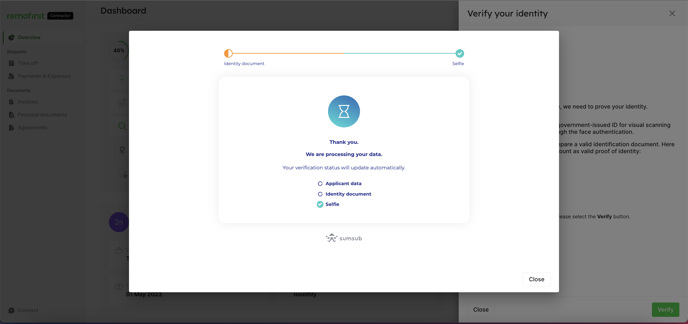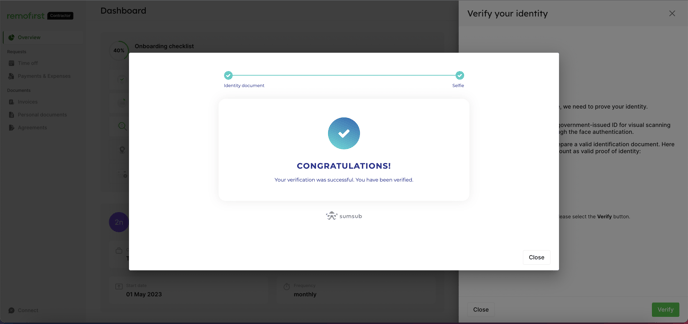 Note: After the completion, please refresh the page in get "done" status and be able to proceed to the next step of the compliance check process.
What if my document wasn't verified via Sumsub?
If the document can't be verified via Sumsub, you may be prompted to resubmit.
Common reasons that a document may not be approved include:
Watermarks
Blur
Glare
Missing info
Foreign objects/persons
Graphics software signs
Poor quality
For more information, please proceed to the Sumsub website: